GREAT FOR
STATIC OR LOW SPEED

APPLICATIONS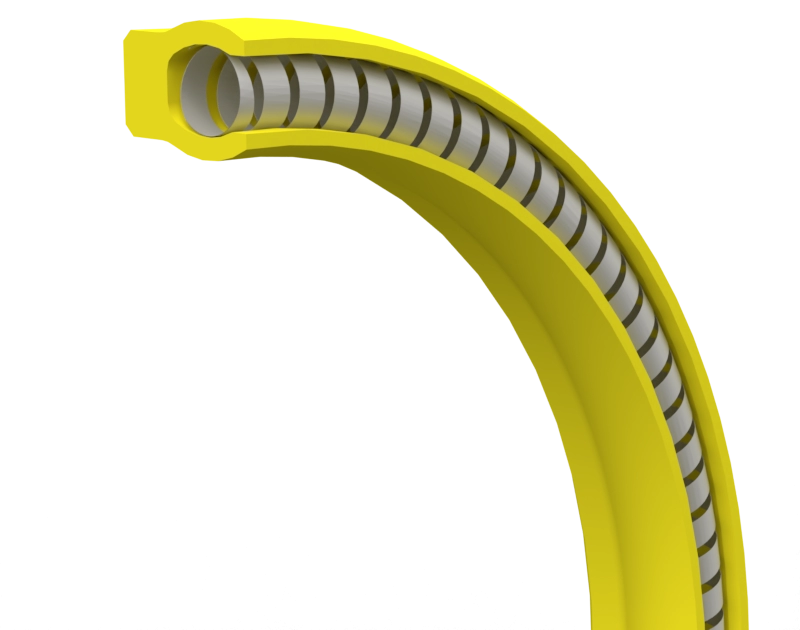 ADVANCED HELICAL SPRING SEAL DESIGNS
Our Helical Spring Seals are designed to fit your hardware's orientation, diameter, geometry, and size. Each Helical Spring Seal is engineered to your design's application requirements. All of our Helical Spring Seals share common characteristics among cross sections. Below is a sample of our most common designs.
Features:
Helical wound flat ribbon spring offers a moderate to high spring load for static and slow dynamic conditions.

Seal designs are available in standard heel, extended heel, and flanged heel.

Available in all sizes to fit Industrial, Aerospace, and Military glands. Custom seal sizes range .125" to 48" diameters.

Springs are available in 17-7 PH, 304 SS, 316 SS, and Elgiloy materials

Contained seal designs are available for applications where the hardware disengages the seal under pressure

The 100 series seals can be offered with elastomeric O-Ring energizers in place of the metallic spring.
Benefits:
The moderate to high spring load provides positive sealing over a wide temperature and pressure range.

The helical spring with tight spacing and high unit load, makes it well suited for vacuum and cryogenic applications.

The skived lip with sharp edge provides a scraper/wiper action for sealing abrasive and/or viscous media.

The 100 series seals can be supplied with an extended heel selection for improved resistance to extrusion at high pressures and high temperatures.

The flanged heel design is recommended for cryogenic or rotary/oscillatory applications. The flange is clamped in the housing to prevent the seal from shrinking or turning with the shaft.
SEALING APPLICATIONS
High Pressure
Static Seals
Cryogenic
Vacuum
ADV. HELICAL SPRING SEALS OPERATING SPECS.
| | |
| --- | --- |
| Gland Cross Sections | 1/16" to 1/4" |
| Operating Pressure | Vacuum to 30,000 psi and above |
| Temperature Range | -450°F to 600°F |
| Motion/Speed | Static to Slow Dynamic (reciprocating or oscillatory) |
Typical Applications:
High-Pressure Seal

Offers Leak-Tight Sealing At Low Pressure

Cryogenic Seal

Vacuum Seal

Reverse Pressure to 100 psi

Static and Slow Dynamic Sealing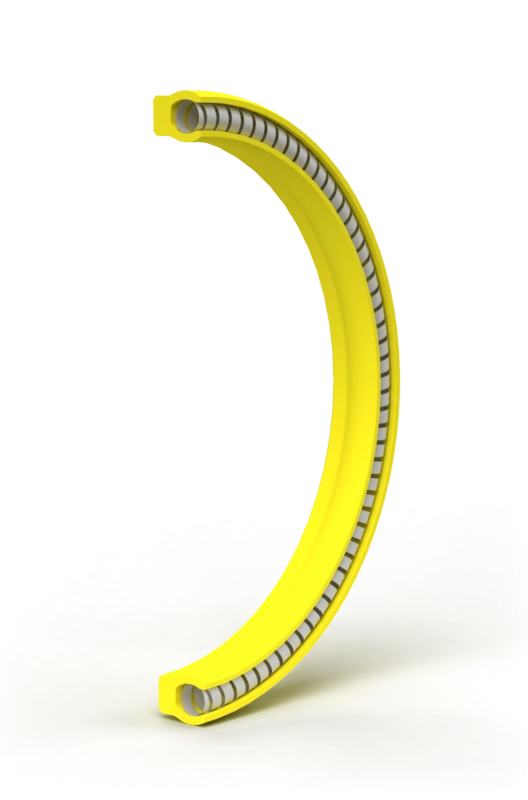 HELICAL SPRING SEALS

IN A VARIETY OF ENGINEERED DESIGNS