2020/11/17
PCTI DESIGN TEAM
Finding the best Sealing Solution for Industrial Applications can be a complex design process incorporating many different operating challenges. The Industrial Seal Market deals with a variety of seal services types and conditions including viscous or abrasive media, high and low temperature ranges, high pressure ranges, and various motion types and velocities.
When considering a sealing solution many hardware manufacturers jump to a traditional O-Ring as their first option. Although useful in less demanding applications, O-Ring elastomers are limited in their uses when temperature, fluid compatibility, and friction are factors. When used within these factors, O-Rings typically wear out sooner and require frequent replacement.
When these harsh operating factors cause seal failure many of our Industrial Sector Clients turn to more robust options in our Spring Energized Seals. Spring energized seals provide a wider selection of materials and compounds to choose from and offer nominal surface contact between the seal and hardware gland.
Spring Energized Seals are custom designed to the sealing groove and machined/milled to fit at precise tolerances. With exacting precision, many of our Seal designs can provide near-zero or zero leakage.





ENGINEERED SEALS,

FOR YOUR HIGH PERFORMANCE HARDWARE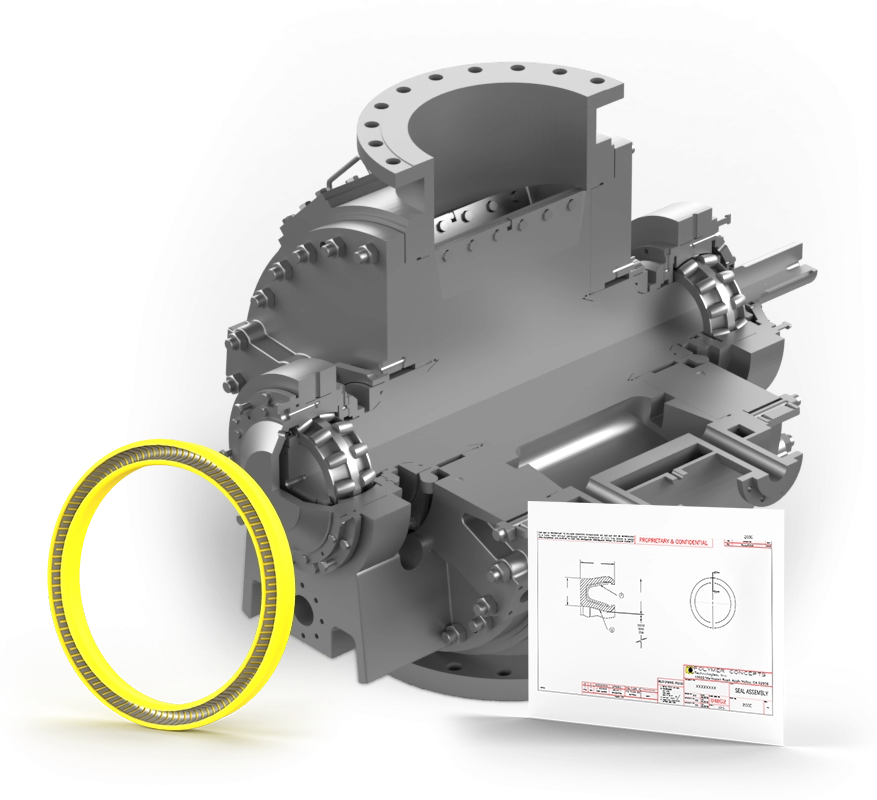 Seal Series for Industrial Applications:
PTFE Seal & Component Design Services
Engineered Designs
Is your current sealing solution not cutting it? Our in house design team can help you develop one that will fit all of your operating requirements.
Seal Failure Analysis
Is your sealing solution not working or failing early? We can help with that using our in-house seal failure analysis team.
Rapid Prototyping
Our facility is equipped to quickly bring your designs to prototype fruition. We offer design services in a two to three business day window. Working prototypes In three weeks or less, and order to production within 30 business days.
Hardware Consulting
Are you working with standard or custom groove sizes in your hardware? We have the experience to help you in your lead-in sizes, chamfer/filet radius sizing, and installation tool design.
Reverse Engineering
Is your sealing solution out of stock or obsolete? We offer in-house reverse engineering and manufacturing services.
Polymer Concepts Technologies designs, engineers and manufactures state-of-the-art application-specific sealing solutions and high-performance polymer and fluoropolymer components. We take a collaborative technical approach with our customers and incorporate flexible designs, a vast material portfolio, and experienced manufacturing methodology to tackle the challenges of the most difficult applications. Our in-depth engineering experience, understanding of material characteristics, flexible service, rapid prototyping, and strong Total Quality Management System (AS9100D & ISO9001:2015) ensure an industry-leading solution every time.