PCTI Design Team
PTFE SEALS (TEFLON® SEALS)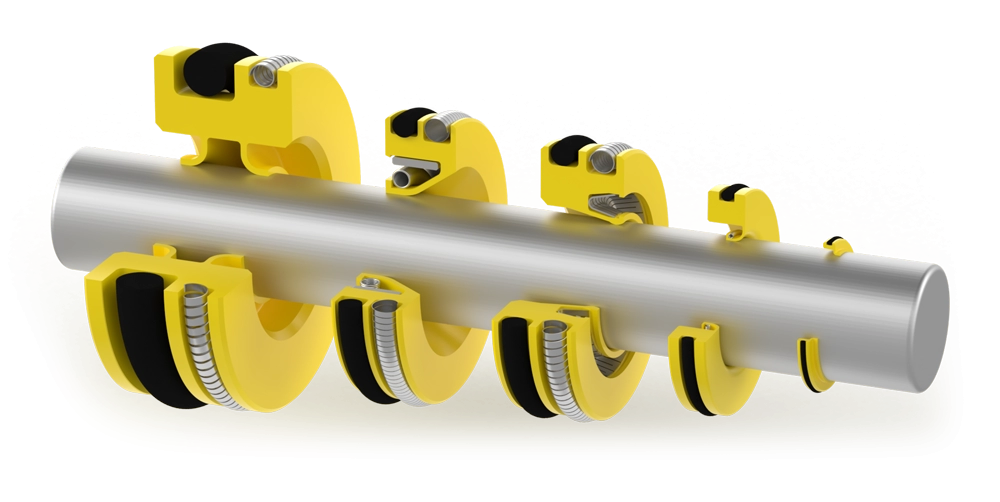 What are PTFE (TEFLON®) Seals?
PTFE seals—commonly referred to by its brand name, Teflon—are a family of sealing solutions utilizing Teflon and Teflon filled variant materials to meet demanding application requirements. Teflon has almost universal chemical resistance, the lowest coefficient of friction of any known solid material, and wide working temperature range. Considering these properties, Teflon is an excellent choice in material for high-performance seals.
Key Material Properties & PTFE Seal Temperature Range
PTFE has outstanding properties that can withstand aggressive chemicals, high temperatures, and tough operating conditions. Here are some key material properties of PTFE:
Material Code

Description

Color

Temperature Range,°F [°C]

Tensile Strength, PSI [MPa]

Polycon 01A

Virgin PTFE

White

-450 [-268]

500 [260]

4675 [32]

Polycon 01C

Modified PTFE

White

-450 [-268]

600 [315]

5100 [35]

Polycon 03B

Lubricated Carbon-Filled PTFE

Grey

-450 [-268]

600 [315]

3210 [22]

Polycon 04

Lubricated Carbon-Filled PTFE

Black

-450 [-268]

600 [315]

2310 [16]

Polycon 06

Lubricated Glass-Filled PTFE

Light Grey

-450 [-268]

600 [315]

2525 [17]

Polycon 06A

Lubricated Glass-Filled PTFE

Grey

-450 [-268]

600 [315]

2000 [14]

Polycon 09A

Polymer-Filled PTFE

Dark Yellow

-450 [-268]

600 [315]

2950 [20]

Polycon 10

Polymer-Filled PTFE

Tan

-450 [-268]

600 [315]

2925 [20]

Polycon 10

Lubricated Formulated PTFE

Black

-450 [-268]

600 [315]

2400 [17]

Polycon 12D

Lubricated Formulated PTFE

Black

-450 [-268]

600 [315]

2680 [18]

Polycon 21

Lubricated Glass-Filled PTFE

Grey

-450 [-268]

600 [315]

3430 [23]
Benefits of PTFE Seals
PTFE seals can be found in nearly every industry, performing where other plastic polymers may fall short. Some key benefits of PTFE seals include:
High Pressure Capabilities
Improved Wear and Creep Resistance
PTFE Seal Material Variations & Grades
PTFE is available in a variety of grades that offer enhanced benefits to meet your particular needs and application. Some typical PTFE grades include:
Premium Grade Virgin PTFE

Chemically Modified PTFE, TFM™

Glass Fiber filled PTFE

Molybdenum Disulfide filled PTFE

Carbon Fiber filled PTFE

Graphite filled PTFE

Bronze filled PTFE

Ekonol® or Aromatic Polyester filled PTFE

Polymeric – PPS, Polyimide, Torlon® filled PTFE

Minerals – Mica, Wollastonite filled PTFE
Common PTFE Seal Types
Some common PTFE seal types include:
Reciprocating Rod and Piston Seals

Packing

Rotary Shaft Seals
Custom/Engineered Seals
Anti-Blowout Seals, Fully Contained Seals
Face Seals
High Pressure Seals
HPHT Seals with V-Packings
Cryogenic Valve Seals
HPLC Seals
Bidirectional Seals
Sanitary Seals
Labyrinth Seals
Common PTFE Components
Some common PTFE components include:
Piston Cups and Rings
Bearings
Gaskets
Ball Seals
AODD Pump Balls
Spacer Rings
Bushings
V-Rings
Industrial
Adhesive Dispensing Equipment
Compressors
Cryogenic Systems
Food Processing Pumps
Fluid Transfer Systems
Insulators
Mixers

Robotics

Vacuum Pumps
Medical Device & Life Sciences
UHPLC/UPLC
Surgical Tools
Autoclave
Instrumentation
hematology Analyzers
Oxygen Concentrators
Pharmaceutical Equipment
Aerospace
Actuators
Gearboxes
Turbine Engines
Landing Gear

Fuel Systems

Quick Disconnects

APUs

Cryogenic Valves
Oil & Gas
Surface Drilling Equipment
Downhole Tools
Subsea and Deepwater Equipment
HPHT Environments
LWD/MWD Tools

LNG Pipe and Equipment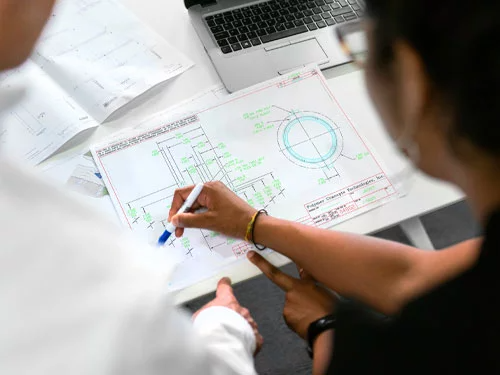 Ready to Work With the Industry-Leading PTFE (TEFLON®) Seal Manufacturer?
Your Polymer Concepts team is here to help.
Whether you have a sales inquiry, need some customer support, would like engineering feedback, or have something to share with marketing, Polymer Concepts is here for you.
Contact us through the web form and we will happily respond to your questions or comments. You are also welcome to call us for a quicker response at 760.240.4999. We look forward to hearing from you!