PCTI Design Team
SPRING ENERGIZED SEALS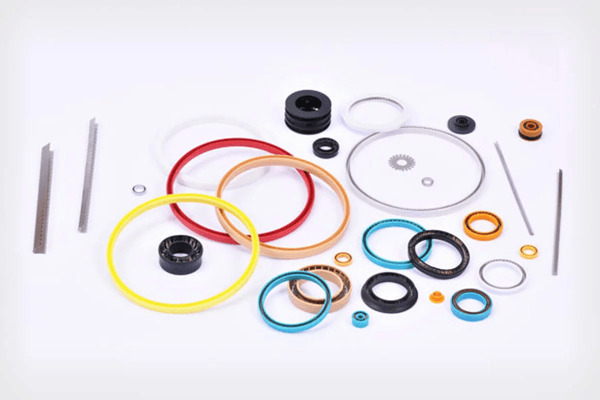 What are Spring Energized Seals?
Spring energized seals are made up of two components: a polymer-based seal jacket and spring energizer. Spring energized seals are great for use in environments that are too aggressive for other types of seals, as they provide a longer service life, maintain sealing pressure, and offer extreme wear resistance.
How Do Spring Energized Seals Work?
There are 3 elements for a proper a SES seal function. The first is the interference between the seal jacket and the mating surface. The forces are relatively light. The seal jacket heel must be supported for the seal to properly stay in place and the lips to function properly.

The second force is the resultant forces of the spring energizer. The spring energizer forces can be light if friction is important or heavy if leakage is the primary concern. The spring force will be higher than the force caused by interference. The spring becomes the dominant force in applications with minimal to no pressure. The spring acts as the initial energizer and prevents the media from bypassing the seal contact surface.
The third force is the media pressure. The media pressure is higher than the combination of the interference and spring energizer and becomes the dominant force in many applications.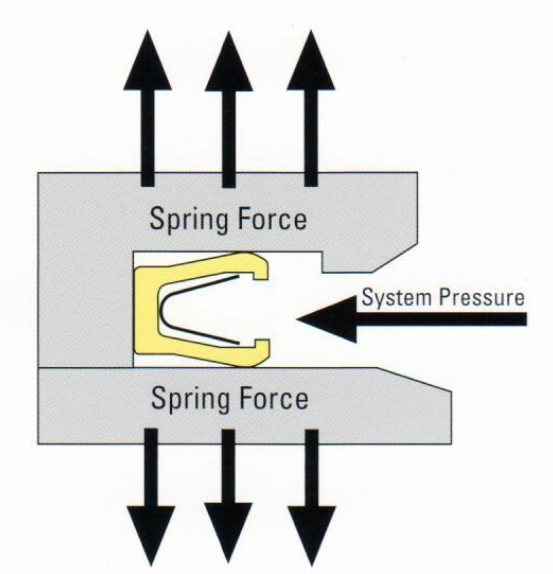 Common Spring Energized Seal Jacket Materials
Spring energized seals are available in a variety of materials that offer enhanced benefits to meet your particular needs and application. Some common materials for spring energized seals include:
Spring Energized Seals Material Codes and Properties
Material Code

Description

Color

Temperature Range,°F [°C]

Tensile Strength, PSI [MPa]

Material Data Sheets

Polycon 01A

Virgin PTFE

White

-450 [-268]

500 [260]

4675 [32]

Polycon 01C

Modified PTFE

White

-450 [-268]

600 [315]

5100 [35]

Polycon 04

Lubricated Carbon-Filled PTFE

Black

-450 [-268]

600 [315]

2310 [16]

Polyycon 050

PCTFE

Translucent

-450 [-268]

356 [180]

5790 [40]

-

Polycon 06

Lubricated Glass-Filled PTFE

Light Grey

-450 [-268]

600 [315]

2525 [17]

Polycon 08

Formulated UHMWPE

Gold

-450 [-268]

180 [82]

2950 [20]

Polycon 10

Polymer-Filled PTFE

Tan

-450 [-268]

600 [315]

2925 [20]

Polycon 12

Lubricated Formulated PTFE

Black

-450 [-268]

600 [315]

2400 [17]

Polycon 21

Lubricated Glass-Filled PTFE

Grey

-450 [-268]

600 [315]

3430 [23]

Polycon 25

Virgin PEEK

Tan

-346 [-210]

600 [315]

15850 [109]
Benefits of Spring Energized Seals
Some key benefits of spring energized seals include:
Low Friction in Dry Environments
Types Of Spring Energizers Used In Seals
The types of spring energizers used in spring energized seals include:
Helical Spring Seals
Cantilever V-Spring Seals
Canted Coil Spring Seals (see slant coil height under deflection)

Helical Spring
The helical spring energizer design is intended for static applications due to the high unit load. It can be used in very slow or infrequent dynamic conditions when friction and wear are secondary concerns to positive sealing.
This spring energizer design produces an evenly distributed load across each individual band. Our in-house manufacturing team maintains minimal gaps between coils. This tight spacing provides continuous load, reducing potential leak paths and failures.
Helical springs are well suited for vacuum and cryogenic applications.
Cantilevered V-Spring
Cantilever V Spring Seals utilize a V-Shaped spring pressed into a seal jacket. At installation the Cantilevered V-Spring is compressed, pushing against the legs of the seal providing positive sealing pressure. This type of spring energizer has a linear load curve and significant deflection range.

Cantilevered V-Spring seals are ideal for applications whose materials resemble adhesive-like properties.
Canted Coil Spring
Advanced Slant Coil Springs are made from round wire which is coiled and formed into an elliptical shape on an inclined position. Unlike any other types of springs, Advanced Slant Coil Springs produce near constant spring force over a wide range of working deflection and provide outstanding stress properties and fatigue life.

Canted coil springs are a great option for low, repeatable friction, and wide gland tolerances.
Spring Energized Seal Applications
Spring energized seals are an ideal choice for sealing applications across a variety of industries, including:
Industrial
Adhesive Dispensing Equipment
Compressors
Cryogenic Systems
Food Processing Pumps
Fluid Transfer Systems
Insulators
Mixers
Robotics
Vacuum Pumps
Medical Device & Life Sciences
HPLC/UPLC
Surgical Tools
Autoclave Equipment
Instrumentation
Hematology Analyzers
Oxygen Concentrators
Pharmaceutical Equipment
Aerospace
Actuators
Gearboxes
Turbine Engines
Landing Gears
Fuel Systems
Quick Disconnects

APUs
Cryogenic Valves
Oil & Gas
Surface Drilling Equipment
Downhole Tools
Pumps and Valves
Subsea and Deepwater Equipment
HPHT Environments
LWD/MWD Tools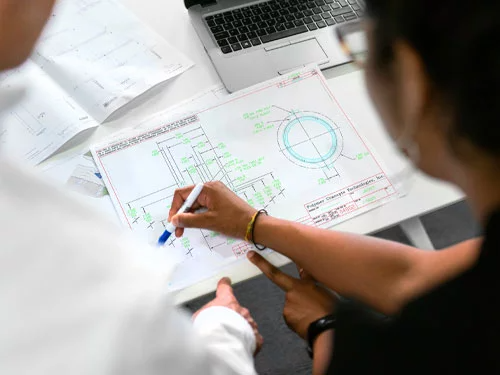 Ready to Work With the Industry-Leading Spring Energized Seal Manufacturer?
Your Polymer Concepts team is here to help.
Whether you have a sales inquiry, need some customer support, would like engineering feedback, or have something to share with marketing, Polymer Concepts is here for you.
Contact us through the web form and we will happily respond to your questions or comments. You are also welcome to call us for a quicker response at 760.240.4999. We look forward to hearing from you!